July news.
New Salsa Class in Taunton Tuesdays
NOW ONGOING ON TUESDAY NIGHTS 🙂
We have a great number of people joining us on in the den each week from all over, why not come and join us.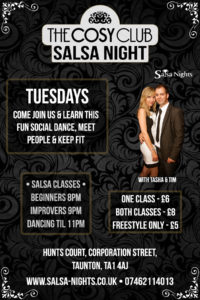 •••••
The Next Salsa @ Nero is in Taunton on the 14th of July so next friday see you there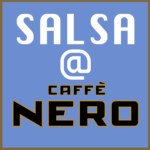 Some photos from The Mad Hatter's Tea party
Many thanks to all that came to the Mad Hatters Tea Party @ Woodlands Castle was a fantastic & special night. Video below & tickets for the next event go on sale this week.
Tickets now on sale for the next party at Woodlands Castle – the first 50 tickets at £15pp click here for info & tickets

•••••
Woolacombe Salsa Weekend (WSW) 2017 – Only 8 rooms left!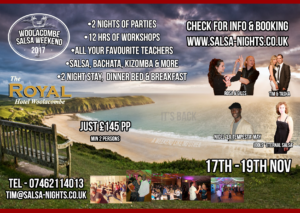 Current prices for Woolacombe Salsa Weekend WSW2017 £145 per person.
Book your room for WSW2017 click here for more info
……
Use this link to go to the registration page
****************************************