31st March 2018
You wanted it…. so we are bringing it!!!
Ever since the unrivaled success of the Salsa Addicts **All Star** Charity Gala we have lost count of the number of times we've been asked: "When are you doing another one?"
So….. not to disappoint, Salsa Addicts with be bringing you a quarterly Latin dance party with some amazing *All Star* guest teachers. It will run on the occasional 5th Saturday of the month with the objective of NOT clashing with any other successful events in the area. Expect the same LATIN FLAVA you enjoyed so much before!!
Your Latin Music……
The Salsa Addicts group has always supported a wide variety of music coving Salsa, Bachata & Cha Cha. We will select from a wide selection of music styles from traditional, old style, romantica, some covers and a splash of Cuban with a view to maintaining a balance of around 70% Salsa (incl Cha Cha) / 30% Bachata… something for everyone!!
Our resident DJ Tim Heasman will be running the decks and will be on hand to jump in with a few line ups to keep the party rocking
Lessons & Party Schedule……
7:30 – 8:00pm ~ Arrival & warm up Dancing
8:00 – 9:00pm ~ Lessons:
Rosa & Giles – Salsa On1 – Improver/Intermediate level
Tim Heasman – Salsa On1 – Beginner level
9:00pm – 12:45am ~ Non Stop Party Time
(to include some fun line ups)
The Venue…….
Address: Shellards Rd, Longwell Green, Bristol BS30 9DU
The Green has an excellent wooden dance floor, great acoustics and lighting and has a well stocked bar with professional bar staff. There will be plenty on seating with a few nice surprises on the well dressed tables for you to enjoy.
The car park is massive & FREE
Pricing and on-line tickets (including "early bird" prices…
ONE PRICE – LESSONS & PARTY
Online Tickets – 1st 50 tickets @ £8.00 (Then £10)
Door pricing* – £10
*Please note that the venue has a maximum capacity so door tickets will be limited. Ensure you don't miss out by getting YOUR early bird ticket well in advance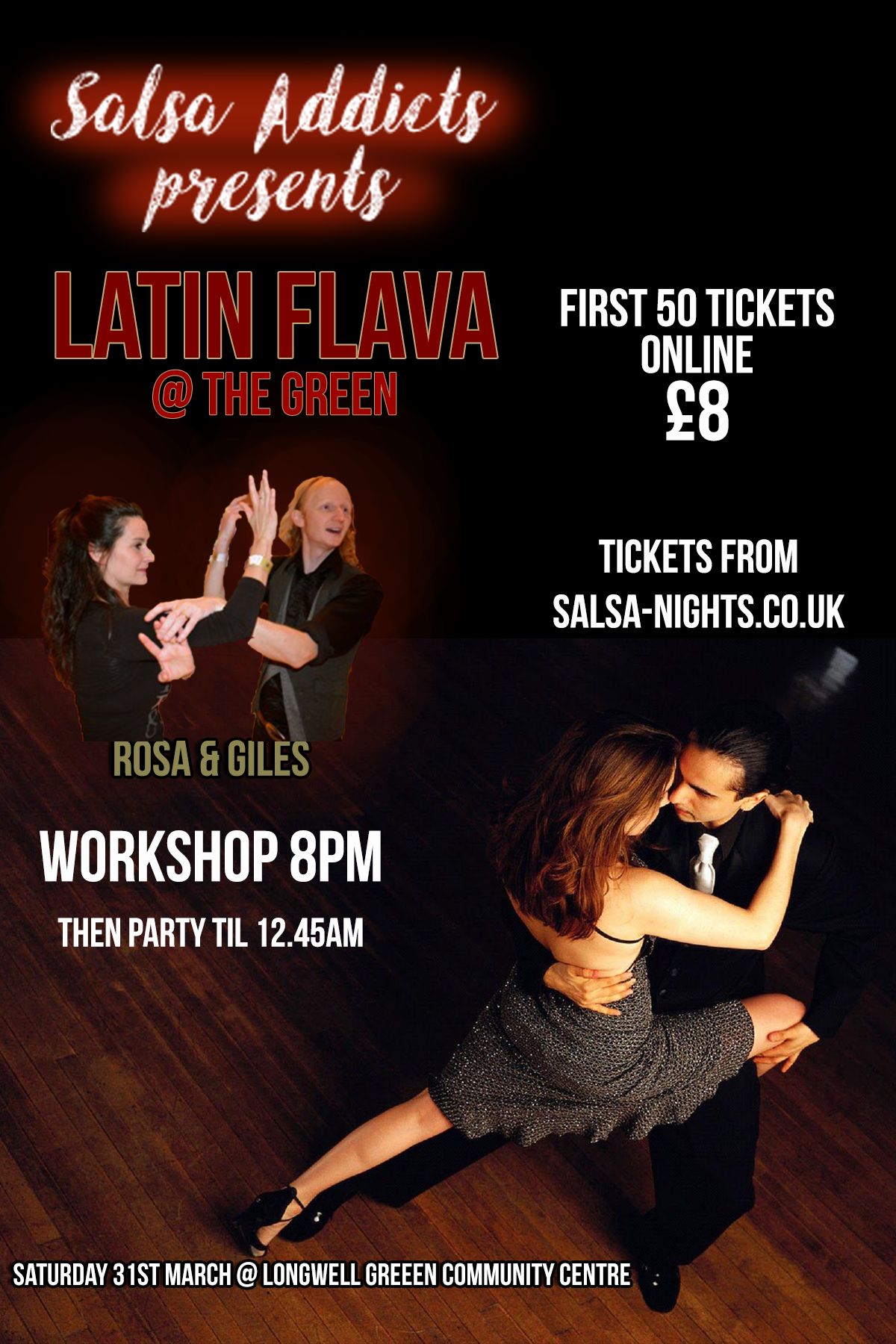 Address: Shellards Rd, Longwell Green, Bristol BS30 9DU